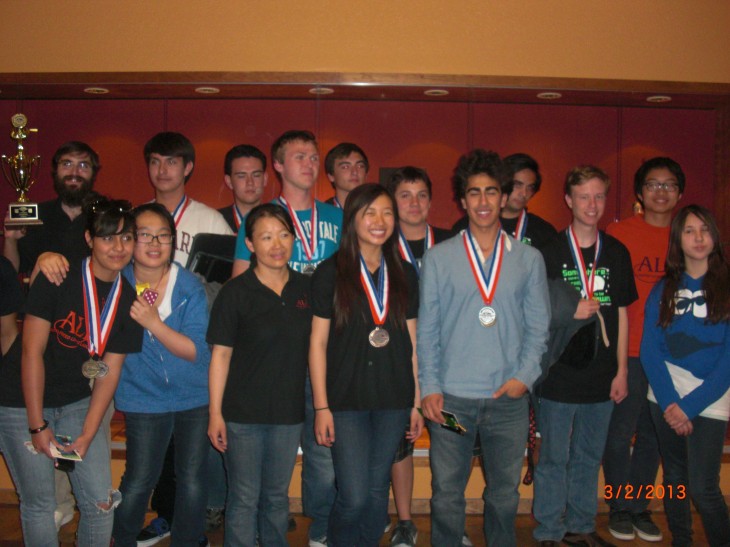 Educational Version of David vs Goliath
Accelerated Learning Lab's (ALL) Victory at 2013 Arizona State Science Olympiad is İncredible
ALL high school, with a population of only 17 students
Wins 2nd Place, against 35 high schools with population of 60155 students in Arizona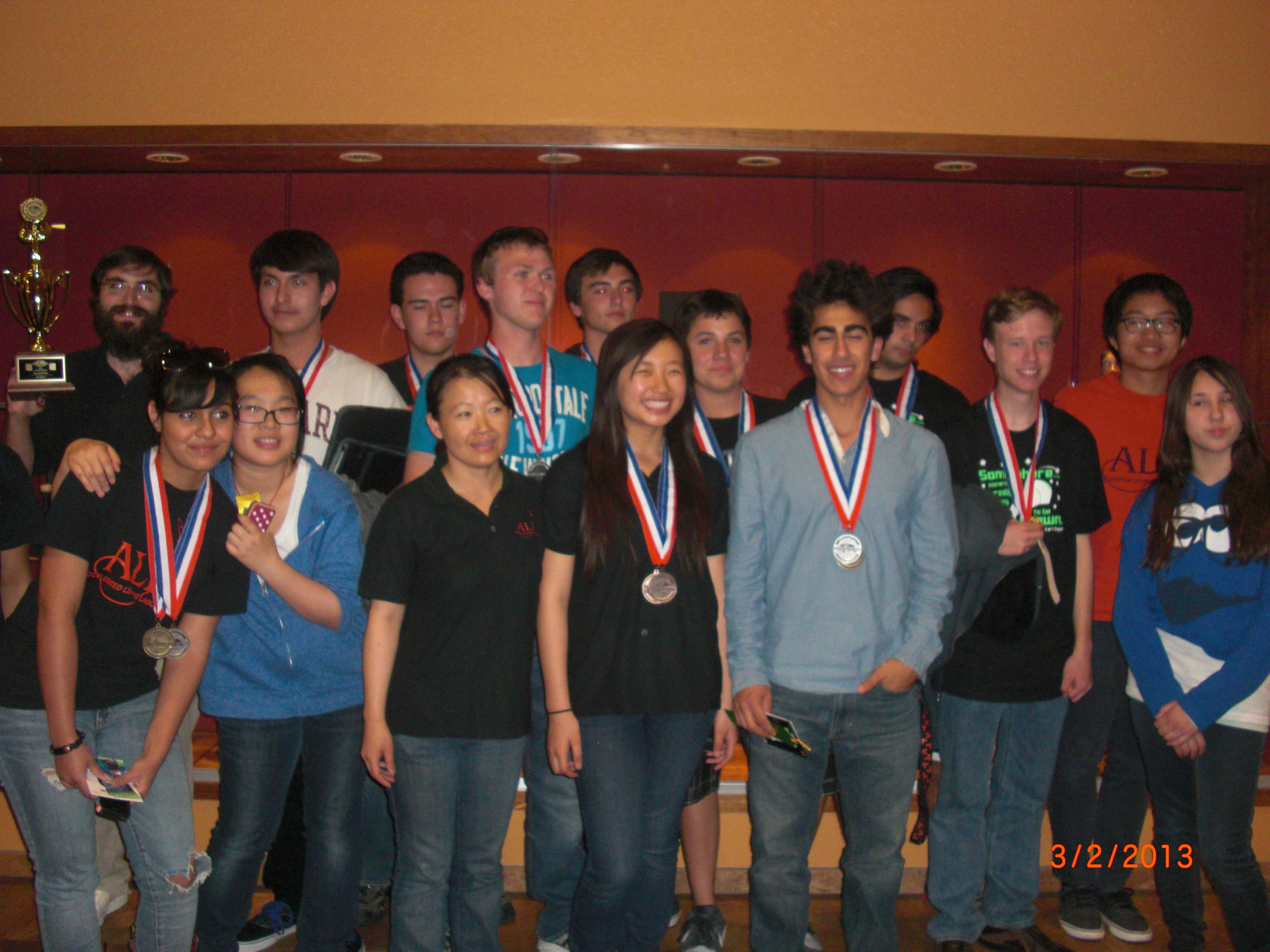 On March 3, my son Matine and his high school team (total 15 students) participated in Arizona State Science Olympiad competition at Chandler, Phoenix. Accelerated Learning Lab has been the smallest school participating in this scientific and engineering competition event for years. ALL is a Charter school, a public school ran privately, and its doors are open for all students. Of course, the team would not be successful without the education, training and support of ALL's dedicated staff: thanks to the headmaster Dr. David Jones, math teacher Dr. Marcus Calhoun-Lopez and the counselor Serei Kay.
David Jones, the principle of this non-profit school is the brains and heart behind many accomplishments of this tiny school in the middle of nowhere in Tucson. For instance, it won the first prize in Math Olympiad for years. Since it has started graduating students, most of its graduating students won scholarships to top schools, including MIT and Princeton.
I am amazed about how far this little school has gone. I was the assistant coach of my son's team between 2006-2010. Our first year was a disaster. Then, we started winning some events and started showing up in top 10, then top 8, then 6, then 5, then 3rd and this year we lost only to one team among total 36 participants.
Every year since 2006, both the B (junior) and C (high school) teams got better and better. The acceleration of this tiny school in the ranks of the competition has been an incredible story. It is the educational version of David versus Goliath. ALL students, again participated in all 26 events.
The number of all K-12 students in ALL is 373, and it has only 17 students at its high school. In other words, with the exception of 2 students the team consisted of the entire high school population. Compare it with the list of the following participating 35 schools with student population in hundreds and even thousands, such as Hamilton, University Hight, Catalina Foothills, etc. (Average population 1700). Consider the fact that it includes magnet schools that offer curriculum for gifted students such as University High. Some are private schools such as St. Gregory. Also consider the fact that some big schools participated with 2 teams and had couches for every event and/or team member.
Here is the list of 36 high schools followed by their enrolled student population, in order of their ranking in 2013 Arizona Science Olympiad Competition:
Catalina High School – Tucson, AZ –  Enrollment: 1890
Accelerated Learning Laboratory – Tucson, AZ –  Enrollment: 17
University High School – Tucson, AZ –  Enrollment: 669
Catalina High School – Tucson, AZ –  Enrollment: 1890
Desert Mountain High School – Scottsdale, AZ –  Enrollment: 2449
Mcclintock High School – Tempe, AZ –  Enrollment: 1915
Saguaro High School – Scottsdale, AZ –  Enrollment: 1748
S. Gregory College Preparatory School – Tucson, AZ –  Enrollment: 344
Empire High School – Tucson, AZ –  Enrollment: 327
Desert Mountain High School – Scottsdale, AZ –  Enrollment: 2449
Hamilton High School – Chandler, AZ –  Enrollment: 2975
Empire High School – Tucson, AZ –  Enrollment: 327
Corona Del Sol High School – Tempe, AZ –  Enrollment: 2803
Canyon Del Oro High School – Oro Valley, AZ –  Enrollment: 1763
Saguaro High School – Scottsdale, AZ –  Enrollment: 1748
Cienega High School – Vail, AZ –  Enrollment: 1622
Canyon Del Oro High School – Oro Valley, AZ –  Enrollment: 1763
Marana High School – Tucson, AZ –  Enrollment: 1783
Morenci High School, – Morenci, AZ –  Enrollment: 520
St. Augustine High School – Tucson, AZ –  Enrollment: 140
Mcclintock High School – Tempe, AZ –  Enrollment: 1915
Sunnyslope High School – Phoenix, AZ –  Enrollment: 1987
Centennial High School – Peoria, AZ –  Enrollment: 2261
Desert Vista High School – Phoenix, AZ –  Enrollment: 2935
Centennial High School – Peoria, AZ –  Enrollment: 2261
Desert Vista High School – Phoenix, AZ –  Enrollment: 2935
Coronado High School – Scottsdale, AZ –  Enrollment: 1314
Mountain Pointe High School – Phoenix, AZ –  Enrollment: 2501
Holbrook High School – Holbrook, AZ –  Enrollment: 762
Sandra Day O'connor High School – Glendale, AZ –  Enrollment: 1954
Mountain Pointe High School – Phoenix, AZ –  Enrollment: 2501
Saguaro High School – Scottsdale, AZ –  Enrollment: 1748
Willow Canyon High School – Surprise, AZ –  Enrollment: 2625
Joy Christian High School – Glendale, AZ –  Enrollment: 200
Tucson Magnet High School – Tucson, AZ –  Enrollment: 2888
Compass High School – Tucson, AZ –  Enrollment: 263
Preparation for the events – ALL, Tucson, Arizona:
http://www.youtube.com/watch?v=8Cf_WNnLL9A
Competition – Glendale, Phoenix, Arizona:
http://www.youtube.com/watch?v=D59t9hRwoqc
PS: The complete list of high schools in Arizona can be found at the following page:
http://high-schools.com/report/az/public-school-enrollment-rank-in-arizona.html