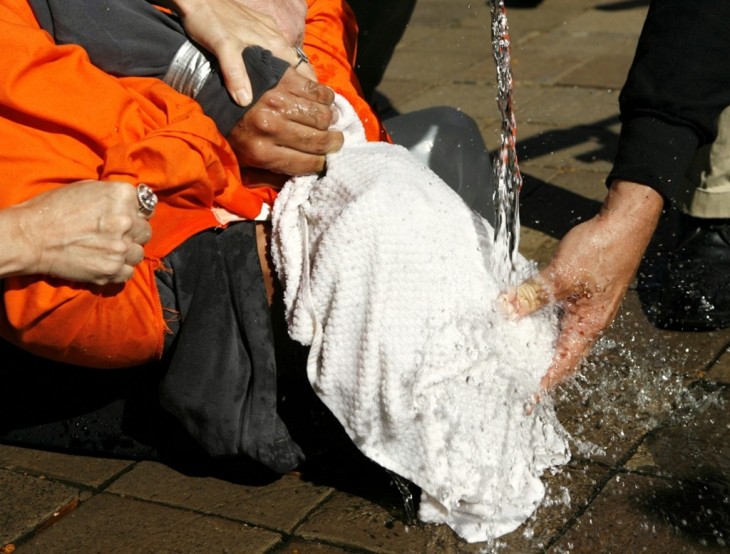 Torture Shame for Humanity
We Should Never Forget
Edip Yüksel
30 April 2013
www.19.org
I know torture first hand. I have told about it in my upcoming autobiography. And I knew that I was tortured with American devices by the members of the fascist military regime who were called by the USA as "our boys." From that experience, whenever I see anyone trying to justify torture, it invokes powerful emotions. I see them as animals, as monsters, as ogres disguised under fancy clothes, modern grooming and rich arsenal of lexicon and sophistry to fool scared people.
Thousands of prisoners in Iraqi jails, especially, in Abu Gharib were subjected to appalling series of systematic terror and tortures. It was the application of the so-called Torture Manuals, which was partially declassified in 1996 by the Pentagon. Thousands of Iraqis and Afghans were raped and sodomized by American soldiers and contractors for years. And knowing the history of imperialism, I am sure that it still continues in many places around the world. No more than 30 of the despicable men and women who committed those atrocities were punished. Compared to their crimes, they received light punishment. They also betrayed the American people by inflaming the rage and anger against Americans, thereby adding more recruits to the terrorist organizations. The New York Times, on January 12, 2005, reported testimony suggesting that the following actions had taken place at Abu Ghraib:
Urinating on detainees.
Jumping on detainee's leg (a limb already wounded by gunfire) with such force that it could not heal properly afterward.
Continuing by pounding detainee's wounded leg with collapsible metal baton.
Pouring phosphoric acid on detainees.
Sodomization of detainees with a baton.
Tying ropes to the detainees' legs or penises and dragging them across the floor.
Though many Americans were shocked to hear the news of torture, they forgot about it as fast as they were shocked by it!
Knowing the power of state propaganda, jingoism and common hypocrisy, many politicians to promote torture based on outlandish scenarios and fear, despite the fact that torture does not help in gathering reliable information.
The table blow is sufficient to indict the USA as the major violator of human rights. It is from my friend Noam Chomsky's book, The Washington Connection and Third World Fascism.
Torture (Countries With US training) – Post World War II to 1975
Torture Countries identified by Amnesty International 
Torture Country

US-trained

Military/Police

US military Aid in $ 

(1946–1979)

Greece

14,144

2,794,900,000

Portugal

2,997

361,900,000

Spain

9,872

920,200,000

Turkey

18,900

4,576,400,00

Indonesia

4,757

218,200,000

Philippines

15,245

805,800,000

South Korea

32,479

6,542,300,000

South Vietnam

35,788

16,490,500,000

Iran

10,807

1,412,500,000

Saudi Arabia

1,380

295,900,000

Morocco

2,209

138,700,000

Tunisia

636

62,400,000

Venezuela

5,341

142,200,000

Uruguay

2,537

85,900,000

Paraguay

1,435

26,400,000

Peru

6,734

193,500,000

Nicaragua

4,897

25,500,000

Mexico

738

14,300,000

Haiti

567

4,200,000

Guatemala

3,030

39,300,000

Dominican Republic

3,705

38,200,000

Colombia

6,200

154,800,00

Chile

6,328

216,900,000

Brazil

8,448

603,100,00

Bolivia

3,956

56,600,000

Argentina

3,676

230,300,000
Source: The Washington Connection and Third World Fascism, Chomsky N, Herman ES, Spokesman (1979), ISBN 0-89608-090-0, pg 361