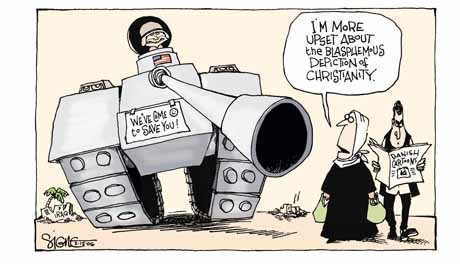 Wars, Wars, and more Wars
Promoted by the American Media and Political Jargon
Edip Yuksel
11 January 2013
www.19.org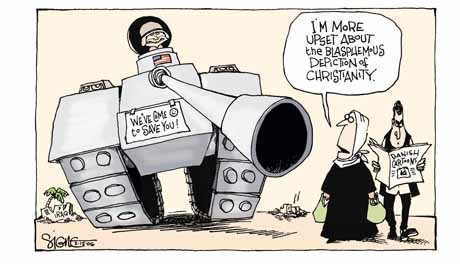 The Military Industrial Complex or the war machine is lubricated by blood. War is a racket and more than 40 million Americans make living by working for the war industry. Boeing, Lockheed Martin, Northrup Grumman and even GE are main manufacturers of military weapons and gears. Cutting defense budgets angers millions of Americans who work in the business of killing and destruction.
Thus, making the war a household name, making killing humans a pastime entertainment is good for the business. An average American child is exposed to the most extreme violence through movies and video games and they watch hundreds of bloody killing scenes every day. There is a systematic campaign of desensitizing Americans against wars and violence. In fact, it is even more: they have transformed the war into an American pastime, snack.
Imagine the power of this industry: About 30 millions of wrong-wing or rapture-freak evangelical Christians chant and vote for more wars, more invasions, more killing, and more military spending after singing "peace" and "love your enemy" in their churches! The word war is ubiquitous in American media and political jargon:
War on Drugs,
War on Crime,
War on illiteracy
War on Poverty,
War on Women,
War on Terrorism,
War on the Middle-class,
Star Wars,
Property Wars,
Storage Wars,
Junkyard Wars,
Cupcake Wars,
War and Whatever!
PS: For my speech at the European Parliament on this issue see:
The last statement (1 minute):
The first part of the speech (15 minutes):
The poster of the Middle Finger to imperialism and the Military Industrial Complex:
For the list of the top 10 American Companies profiting from wars, see the articles listed under the category Warmongers: