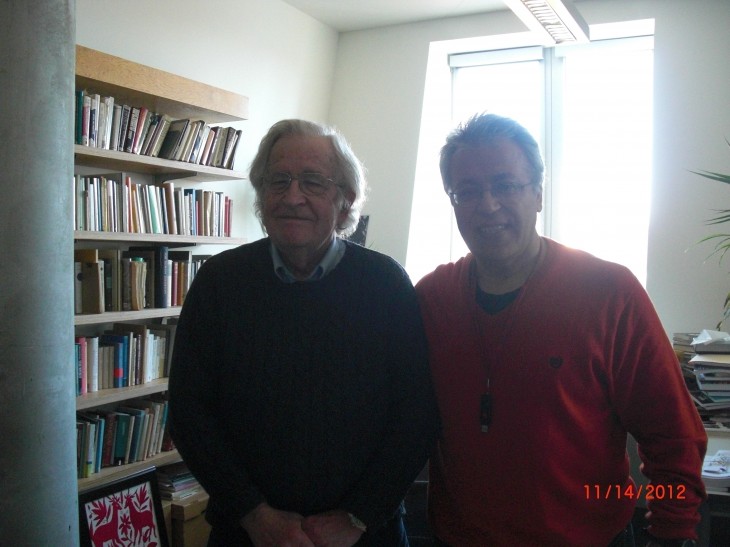 Noam Chomsky and Edip Yuksel
on Yogurt and Falafil
1 January 2013
www.19.org
I have been communicating with Noam for quiet some time. After I interviewed him  on November 14 in his office at MIT, we kept in touch. With his permission, I decided to share with you a trivial but interesting email conversation so that you know what the two very serious people are talking about while others are celebrating the New Year 🙂
Well, as it appears that we see politics even in yogurt and falafil 🙂
1 Jan 2013
No problem dear Noam. You have a friend here, in Tucson, Arizona who also has strong ties with Turkey. My best wishes are for you and your family and friends. My younger son, God willing, might end up either at Harvard or M.I.T.
If that happens, we might move to Boston as family. Then, I promise to God (which you have major problem with) that I will bring you daily yogurt as my daily service for your passion and bravery to defend the oppressed or exploited people in the USA and around the world.
A brief info about my promise: Our favorite yogurt is CHOBANI, which is owned by Kurdish people. The yogurt is originally Turkish, but they market it as Greek. Imagine, Kurdish people are marketing Turkish yogurt in the USA as Greek yogurt! It is very delicious and nutritious. So, take care until I appear at your door with yogurt 🙂
Peace,
Edip
***
1 Jan 2013
A fate I can endure.
Reminds me of one of the food trucks that park outside MIT at lunch time.  This one sells Falafel.  The guys who run it act like Arabs, speaking a few words of Arabic.  I was suspicious, and asked them once.  They said that (as I'd guessed) they're Israelis, but it sells better if it looks more authentically third world.
Noam
***
1 Jan 2013
Noam,
With your permission, I would like to share this anecdote with my friends.
Peace,
Edip
***
1 Jan 2013
Sure.  Maybe if they are still around when you get there we can find them.
To fill out the story, I found out when I was walking through the campus with a friend, a famous Nobel laureate (I won't mention his name) who likes to show off his knowledge of other languages.  When we passed by the truck he ordered some falafel, using his 5 words of Arabic.  They answered in Arabic. That's when I got suspicious.  Came back later and they told me they were using their five words of Arabic, and the rest of the story.
Noam
***
5 Jan 2013
Just a note of thanks for the books.  And also the articles on Kurds and Turkey.  A lot to learn.  And to do.
Noam